me and cyndie decided to take a roadtrip down to missouri for 5 days. we stayed at a small town near lake of the ozarks that was absolutely loaded with water. it seemed like you couldnt go 50 feet in any direction without finding a creek lake or river. almost instantly when we arrived we chose a nearby creek and started fishing. it was a crystal clear stream with a few deep pools. from the bank fish were visable in every portion of the creek. you could see dozens of suckers drum and catfish cruising about through a deep riffle pool, bass and sunfish darted around through the schools of shiners and even the occasional grass carp would move through.
i noticed some darters close to shore and rigged up for micros. almost right away i was able to catch a logperch. a new lifelister for me.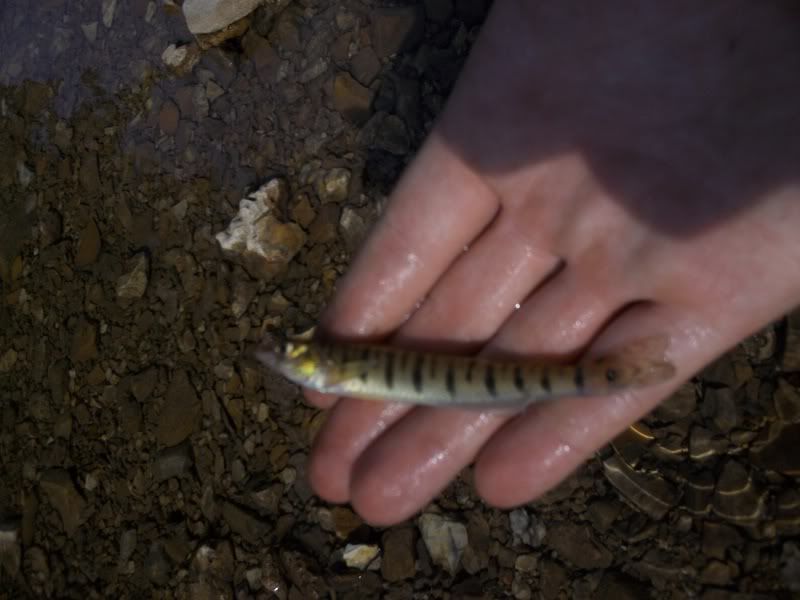 as i fished to some nearby shiners cyndie had found a small slackwater and caught her lifelist northern studfish. i moved over to where she caught it and quickly got one myself along with my lifelist ozark minnow.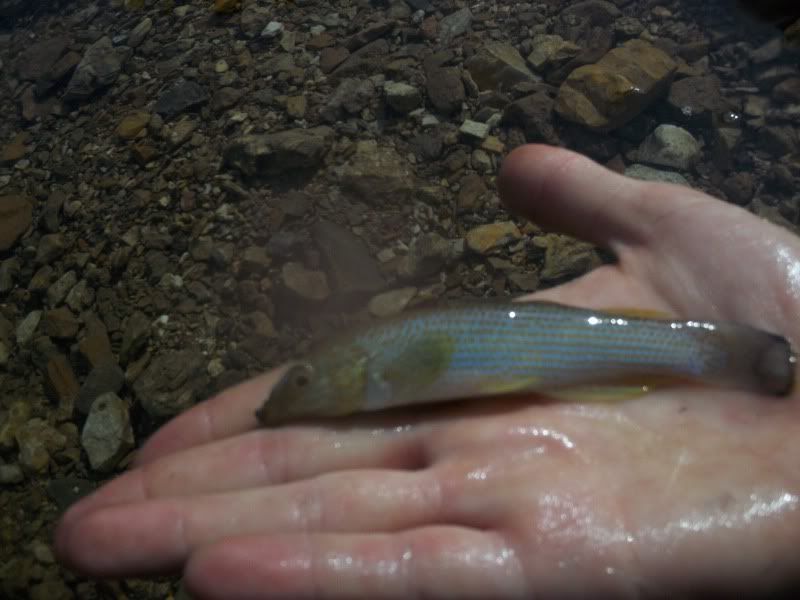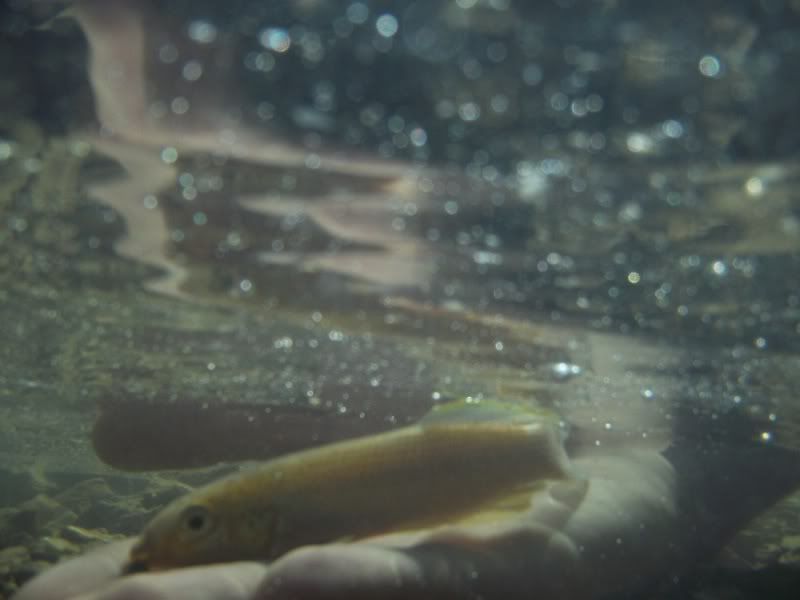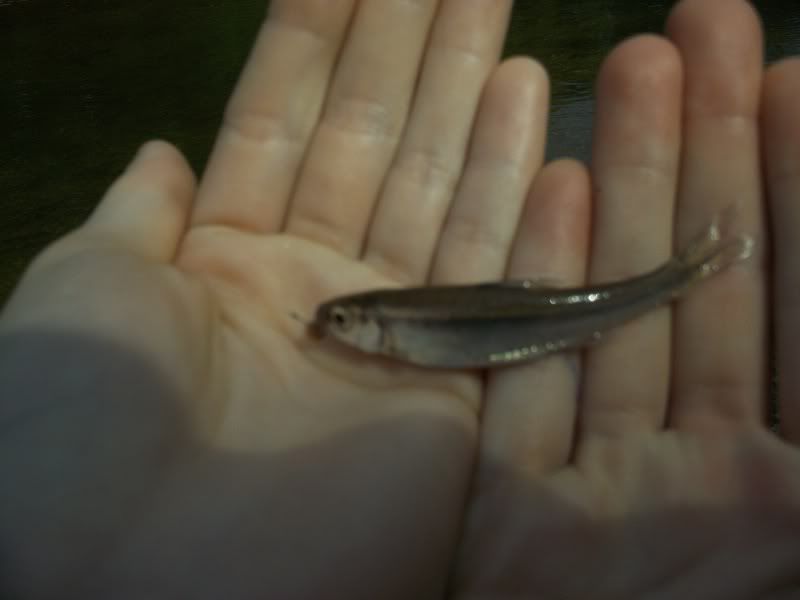 after catching a few more micros i switched up to my fly rod with a tiny leech fly to cast towards the sunfish. almost instantly on my first cast to the far shore i caught my lifelist longear sunfish. a few casts later a lifer spotted bass.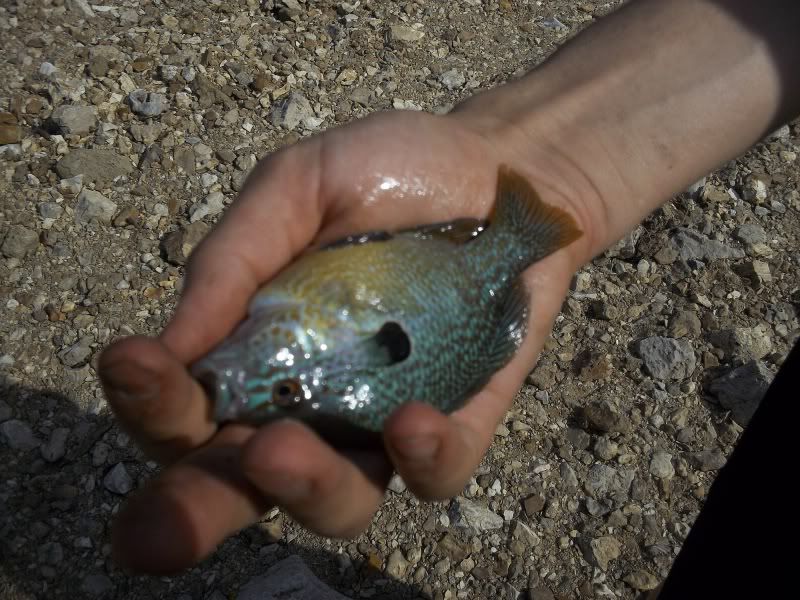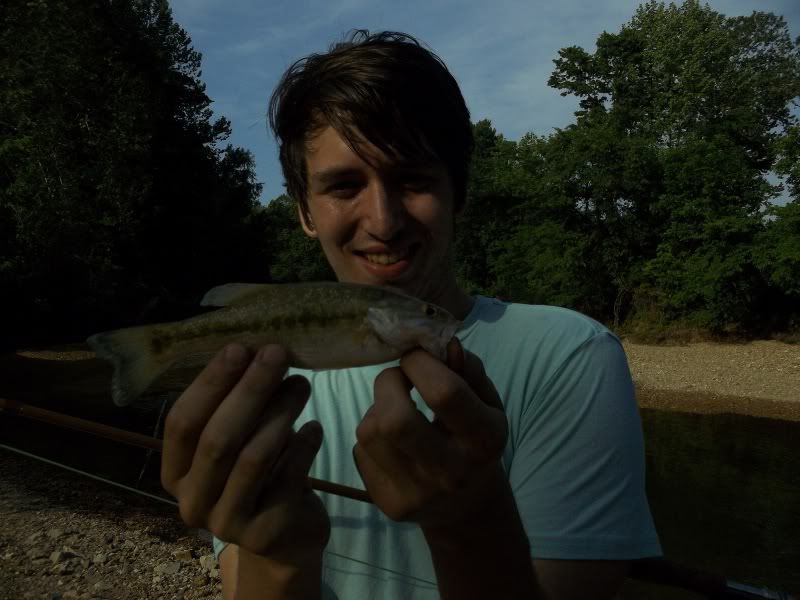 we breifly tried fishing below the dam but didnt have that great of luck. so we called it a day and headed back to our hotel.
the next morning we returned to the creek to catch bait for below the dam. we tried a different spot that was shallow and rocky. right away i noticed tons of shiners and darters. i got my micro tackle out and it wasn't long before i caught my first orangethroat darter.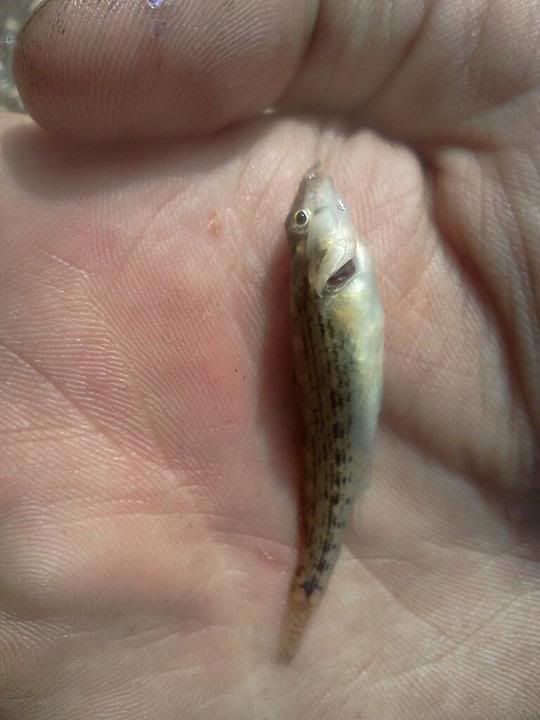 soon after i caught my lifer bleeding shiner. there were huge schools of them everywhere. they were so thick at some spots the river bottom looked red.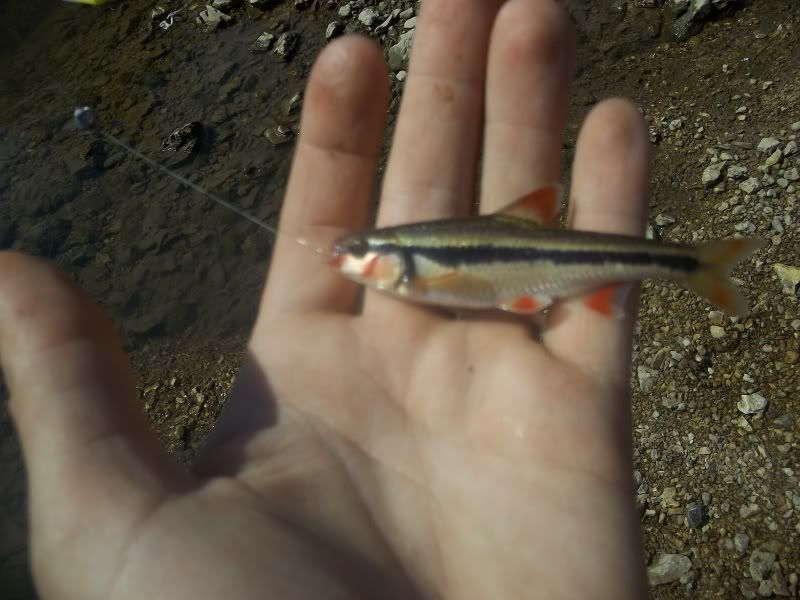 after filling up my minnow bucket with shiners and chubs we went to a spot below the bagnell dam. we set up 2 rods with cutbait on the bottom and waited for a bite. only minutes later cyndie got a fish one. it was a shortnose gar a new lifelister for her.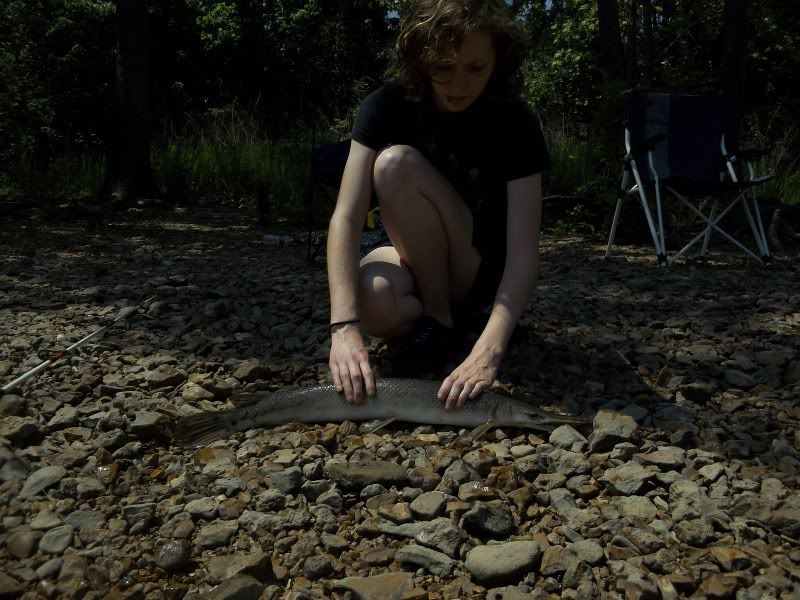 we stayed at this spot for a while catching gar and wipers. after the sun went down we tried for catfish. right away we noticed fishing for catfish in missouri is very different. we got almost constant bites all night but it was just hordes of tiny channel catfish picking up the bait and dropping it. we got several more serious bites but were not able to hook up. cyndie hooked into a big fish that night but it almost instantly ran into a snag. we gave up on catfish for the night and headed back.
we decided to explore a bit on the next day and drove down to the missouri river. unfortunately when we got there it was about 15 feet over its banks and whole massive trees were floating down the river. we went back towards jefferson and fished the moreu river. it was absolutely packed full of silver carp. thousands of them just lazily swimming around by the top of the water. we fished for a few minutes but only caught bluegill. before leaving for a new spot i caught a western mosquitofish on the boat launch.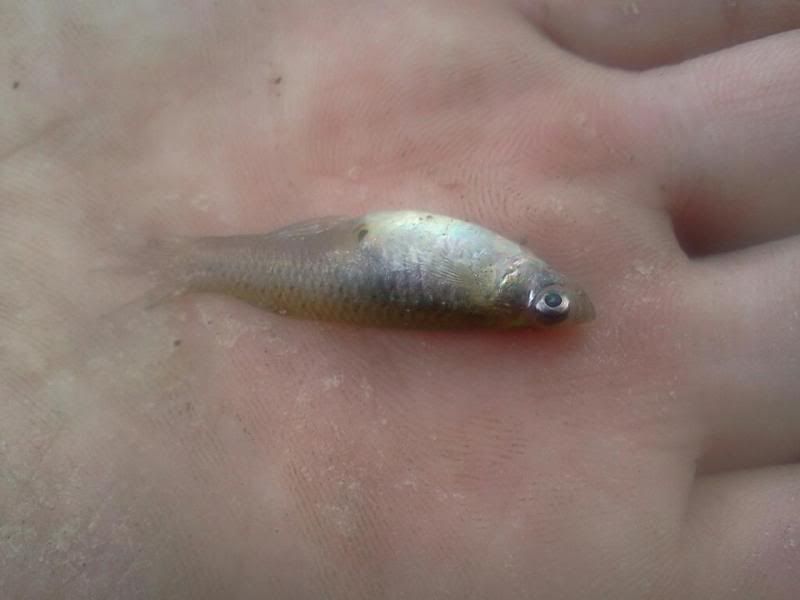 we decided to fish the opposite side of the dam for the night. we setup for cats again and i threw on a tiny panfish jig to catch a bluegill for bait. cast it out into the current and let it drift down. i caught several bass drum bluegill and wipers this way. we setup for cats with cut drum and i tossed the jig around a little more. as it drifted out of the current and towards the slack on the current seem i got a really hard thump that even ripped out a bit of drag. i set the hook and line began screaming out of my reel. i quickly set my drag down so the line wouldn't break. i only had 10lb powerpro and a medium spinning setup and whatever was on the end of the line was huge. it took 15 minutes before i had the fish even half way to shore. as it got closer it turned towards me and i gained a good ammount of line and got my first look at it. i could see the large grey body of the fish occasionally come up but no clear look at the fish. i got it right to my feet and began walking back dragging it up against the bank. cyndie was terrified to even touch it as it thrashed around in the shallows so i passed her the rod and ran down the bank. i grabbed the fish by the mouth with both hands and hauled it onto shore. it was a bighead carp with my jig a good 5 inches into it mouth with the hook bent almost straight. these fish are incredible the girth is absolutely insane and the mouth could fit a softball! i taped it at 42". not a clue as to how much it weighed.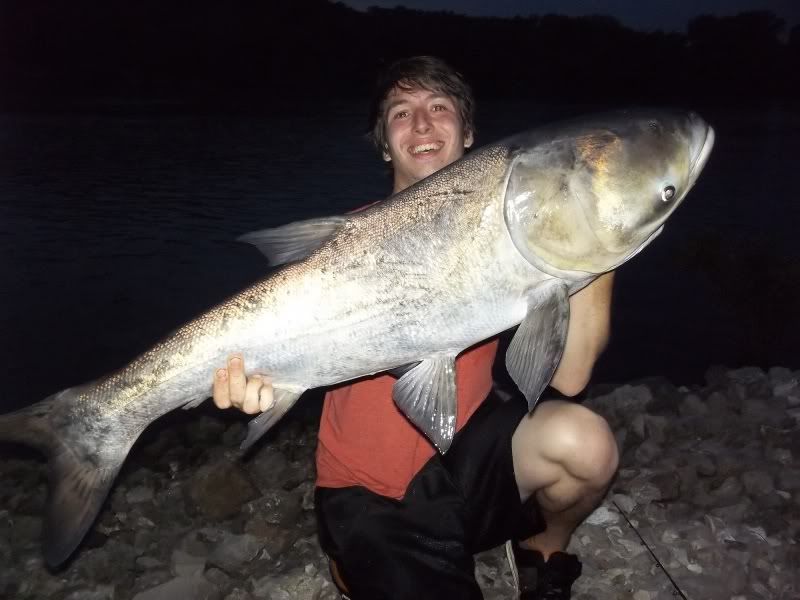 my arm absolutely ached after reeling this thing in so we went back to the hotel to enjoy some cold pabst blue ribbon.
we set out the next day to fish a slackwater near the dam i had looked at but not fished. on the way there my car started acting up and we pulled off the road to see my tire was completely flat. we were on a dirt road in the middle of nowhere on a 95 degree day with a flat tire. even worse i absolutely could not get the old tire off to put the spare on. we had to leave the car and walk till we found someone who had better tools than us to help get the tire off. after getting the spare on i decided since we were so close to the spot we wanted to try we should give it a shot for a little while then get the tire fixed.
there was a slow current moving along the side of an area with absolutely no current and gar were rolling like crazy. we fished cutbait under a float in the middle of the pool and it never took long to get a bite. we caught several shortnose gar and some white bass. i hooked into a few really big longnose gar but had trouble keeping any of them on. we would sometimes get a bite almost instantly. once our float started running away we would flip the bail on the reel let the fish run with it for a bit and set the hook. cyndie was having a much easier time catching gar then i was. i was beginning to get frustrated after a few more bites got missed. finally i got one on and it was hooked good. it felt like a really nice fish so i was getting excited. it rolled close to shore and i noticed it was a paddlefish. i was thinking that somehow i tailed the fish so i wasn't taking it serious thinking about how i wished it was a big gar not a snagged fish.... but then it surfaced close to shore and i realized my hook was in its mouth. thats when i let out a "HOLY SHIT!!!" that startled some of the locals fishing by us. we quickly snapped a few shots of the fish and got it back in the water.i sat there on the shore with a big grin on my face my heart going a million miles an hour and my hands shaking. we left soon after to grab some lunch get the tire taken care of then get back out for more fishing.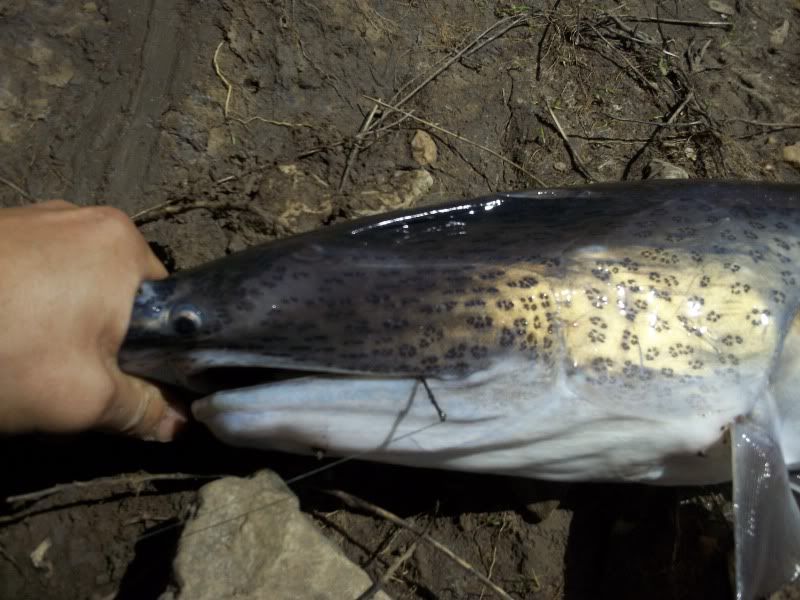 we went back to the spot by the dam to try for cats. i started out throwing a rapala around while cyndie caught bluegill for bait. right away i got a shortnose gar that beat my personal best.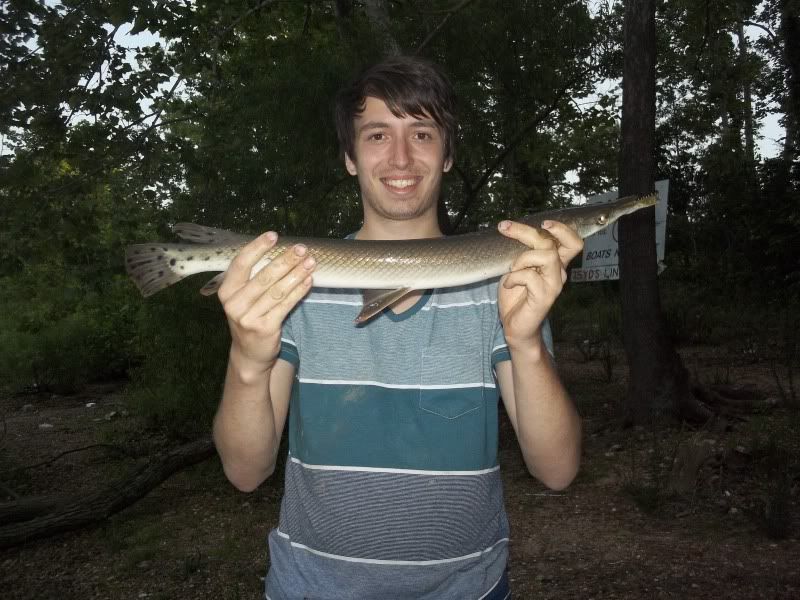 this fish had a gnarly upper jaw.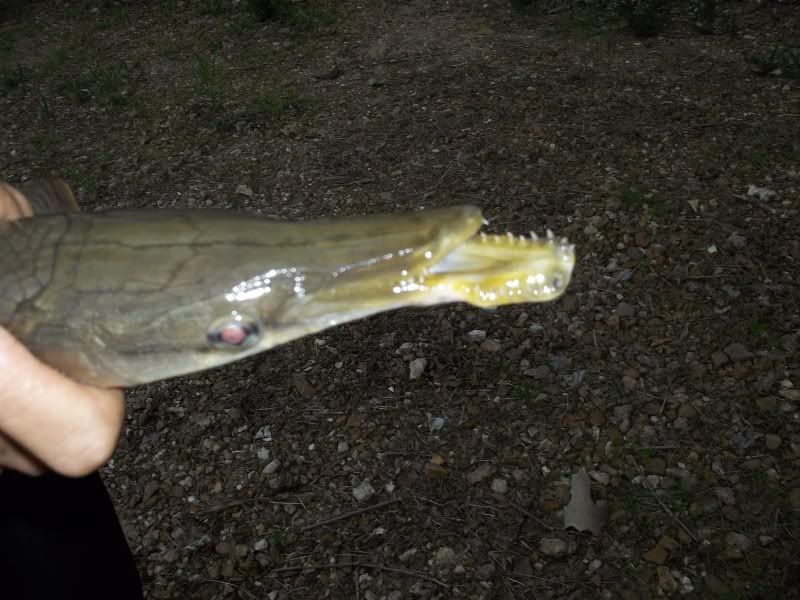 i cast around the rapala as it got a little darker and caught a decent wiper.
after that we got catfish bait out right away. again the bites came instantly. small fish just picking away at the bait. this would go one all night and was extremely frustrating. i rigged up my medium setup and tossed a tiny chunk of bluegill out on a small hook with a few splitshots on the line. as expected i got a bit within 5 minutes and reeled in my lifelist blue cat. cyndie cast out with the same line after that and got hers in only minutes too. both fish were super tiny and probably the size of all the ones down there picking at the bait.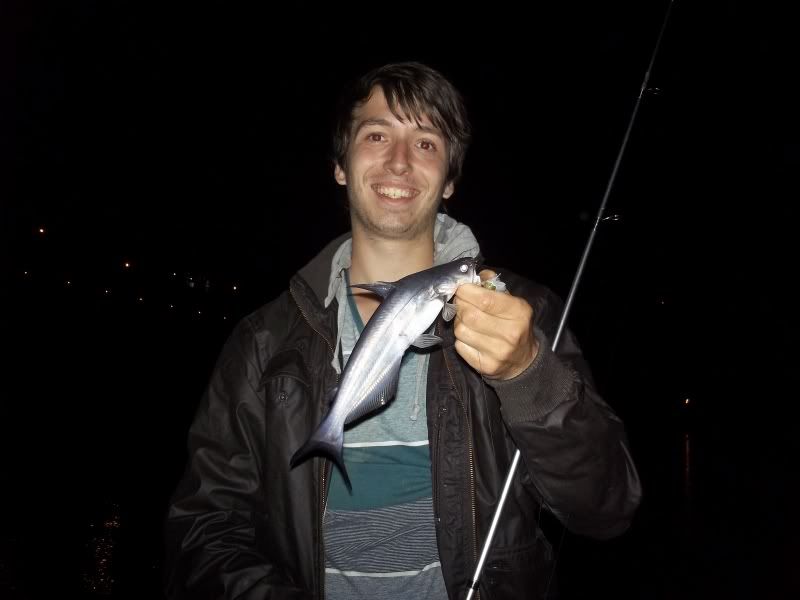 cyndie's blue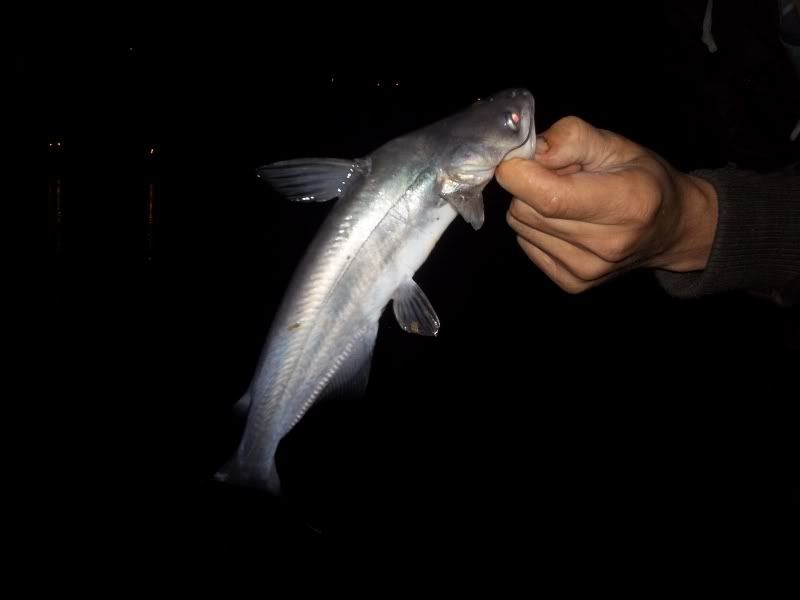 we got a few better bites but had a hard time hooking any fish. at around 2am we called it a night and went back.
the last day we spent just exploring the area. we didn't get all that serious about fishing. we hiked a few creeks and i brought my micro gear along. at one spot one a tributary of honey creek i caught this. i believe its a longnose dace but please correct me if i am wrong.
we explored all over the place but didnt find much. after that we went back got everything packed up then went out to a local resturant for dinner. afterwards we went to bed and drove back in the morning feeling sad about having to leave. all in all this was the best fishing trip i think i have ever had.